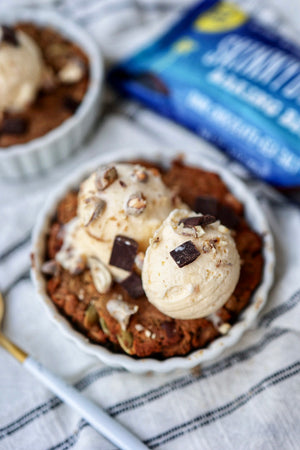 Ingredients (Serves 2): 
Add-ins of choice (dried fruit, any nuts & seeds, etc.)
3 tbsp olive oil or melted coconut oil or butter
1 tbsp ground flax mixed with 3 tbsp water
1/4 cup sunflower or almond butter
1/4 cup + 2 tbsp coconut sugar
1 1/4 cups almond flour
1 Tbsp coconut flour
2 tsp vanilla extract
1/2 tsp baking soda
Pinch of sea salt
Instructions: 
Preheat oven to 350F.
Mix the flax & water together & allow to sit for at least 5 minutes to thicken.
Mix together all of the wet ingredients.
Stir in the dry ingredients and fold in the baking bits.
Divide the mixture amongst two greased ramekins (or one large cast-iron skillet).
For the smaller ramekins, be sure to check on them around 15mins, but you may need to bake up to 22 minutes, until Golden around the edges.
Top with your favorite ice cream cream or whip! Best served straight out of the oven!
ENJOY!