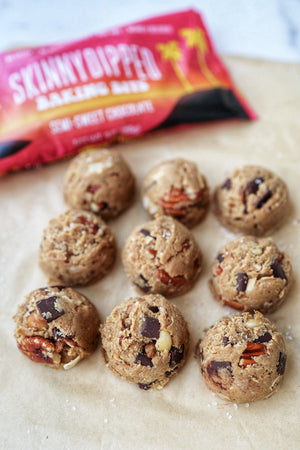 Ingredients (Makes 12 Bites)
2-3 tbsp protein powder or coconut flour
1 tsp cinnamon + pinch of sea salt
3 tbsp melted coconut oil or butter
3 tbsp maple syrup
1 cup almond flour
3-4 tbsp plant-based milk
1/3 cup chopped pecans
Instructions:
Combine everything in a bowl besides the chocolate and pecans, adding 2 tbsp of milk at first and more as needed until you reach a cookie dough consistency.
Fold in the chocolate chips and pecans. Taste and adjust as desired.
Using a cookie scoop, drop dough onto a lined cookie sheet. Place in the freezer to firm up.
ENJOY!