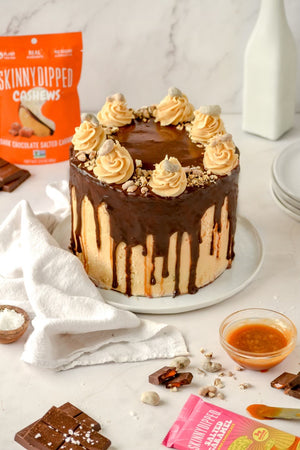 Ingredients: 
Cake
3 Cups Flour
2 Cups Sugar
1 Cup Coco powder
1 tbsp baking powder
1 1/2 tsp baking soda
1 tsp salt
3/4 cup vegetable oil
2 tsp vanilla
1 cup buttermilk
3 eggs
1 cup boiling water
Caramel Sauce/ filling
3/4 cup salted butter
2 cups sugar
1 cup heavy cream
1 1/2 tsp Flaky Sea Salt
Caramel Buttercream
2 1/2 cups salted butter (softened)
10 cups powdered sugar
1 cup caramel sauce (home made)
10 tbsp heavy cream
1 tbsp vanilla 
Chocolate Ganache Drip/ Top
1/2 cup Heavy Cream
2 SkinnyDipped Salted Caramel Chocolate Bars
1/4 Cup SkinnyDipped Salted Caramel Chocolate Cashews
Instructions:
Cake
In the bowl of a stand mixer, add your flour sugar, coco powder, baking powder, baking soda, and salt. Mix until combined. Then add your oil, vanilla, buttermilk, and eggs. Mix until combined. Slowly add your boiling water, while mixing on medium speed.
Melt your SkinnyDipped Chocolate Bars. Chop up your chocolate bars and place in a microwave safe bowl. Microwave for 30 seconds and stir. If still not melted, microwave again in 15 second intervals stirringin between each one. Add melted chocolate to your batter. Mix until combined.
Line 3, 8-inch round cake pans with parchment paper. Evenly divide batter into these three pans, smooth out with spatula.
Bake cakes at 350 degrees for 35 minutes. Take out, and let it cool completely. 
Caramel Sauce
In a heavy bottom saucepan, melt your sugar on medium heat, stirring occasionally. Your sugar should first clump up, then melt, and then turn an amber color. Keep a close eye on this or it can burn fast. Once there are no more clumps and the sugar is completelymelted and a golden amber, take off heat.
Immediatelyadd your butter (diced up). Your mixture will rapidly boil. Rigorouslystir until the butter and sugar are combined. This will take a second for the two to combine (about 3 minutes) so keep stirring. 
Once combined add back to the heat (medium heat) and heat until bubbling again. Then slowly add your heavy cream while whisking. Whisk until combined. Once combined, stop stirring and let mixture boil again(it will rise to the top of the pan). Once this happens, take it off of the heat. Stir in your salt and let cool at room temp for 30 minutes then place in the fridge to continue cooling for at least another 30 minutes to thicken.
Roughly chop your SkinnyDipped Salted Caramel Chocolate Cashews and set aside.
Caramel Buttercream
In The bowl of a stand mixer, beat your butter until soft and airy. Then add your powdered sugar and beat on medium speed. Mixture should first clump up then smooth out. Then add your cooled Caramel, Heavy Cream, and vanilla. Mix until completelycombined. 
Chocolate Ganache Drip
Chop up your SkinnyDipped Salted Caramel Chocolate bars and place In a heat safe bowl.
In a small saucepan add your heavy cream and simmer on medium heat. Once cream starts lightly bubbling, remove from heat and pour over chocolate.
Do not stir right away, and let the mixture sit for about 3 minutes. Then stir until chocolate is completelymelted. Set aside
With your SkinnyDipped Salted Caramel Chocolate Cashews, roughly chopabout half of them, leaving the other half alone. set aside.
Assemble
On a cake stand or plate, place your first layer of cake (make sure to not forget to remove your parchment paperfrom your cake layers). Then place a heapingscoop of buttercream on top. spread out your buttercream creating a well in the center. 
In the center of your well, pour on about 1/2 of your remaining caramel. Do not over fillyour well or it will pour out the side and you will have a mess. Itis ok if you use less than half. 
Then sprinkle on about half of your chopped nuts.
Repeat for the second layer, using up the remainingcaramel and chopped nuts (you may have left over caramel that is ok).
Top of your cake with your third tier.
Using up about 1/3 of your remaining buttercream, frost on a crumb coat ( a thin layer of frosting). Then place cake in the fridge for about 30 minutes. Once your crumb coat is chilled and set, Use the majority of your remaining frosting to frost your cake. Use a spatula to smooth out your frosting.
Pour on your chocolate ganache and use a spatula to smooth out, letting chocolate drip over the edges creating a pretty drip look. Let chocolate completelycool, place the cake in the fridge for at least30 minutes. 
using any remaining buttercream pipe on a decorative edge and sprinkle on your remaining nuts for decoration.
Serve and enjoy!