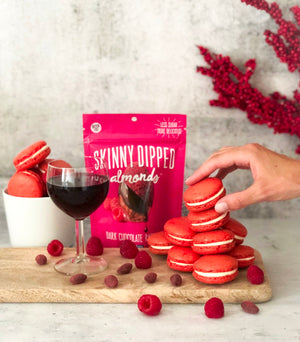 Red never looked so good. Yes, there's SkinnyDipped in these insanely delicious Raspberry Macarons and YES we'll give you our secret recipe... Read on!
Makes 20 macarons.
For the macaron shells:
1 cup powdered sugar
2/3 cup almond flour 
1/2 tsp salt
2 egg whites at room temperature
1/4 cup granulated sugar
1/2 tsp vanilla extract
Red food coloring
For the buttercream filling:
2/3 cup unsalted butter at room temperature
1 1/2 cups powdered sugar
1 tsp vanilla extract
3 tbsp heavy cream
20 Dark Chocolate Raspberry SkinnyDipped Almonds
Method:
Mix and sift powdered sugar and almond flour twice into a large bowl and set aside.
In another large bowl, beat the egg whites and salt with an electric mixer. Slowly add  the granulated sugar until stiff peaks form, then add vanilla extract and food coloring until the desired color.
Using a spatula, gradually fold the sifted mixture to the beaten egg whites until combined. Continue to fold slowly until achieving a thick lava-like mixture. Do not over mix. 
Place the mixture into a piping bag and pipe 4 small dots of meringue in each corner of a large baking tray. Place a sheet of parchment paper on top to glue it down.
Pipe 1 1/4 inch rounds on the tray about 1 inch apart and tap the tray on a flat surface a few times to release any air bubbles.
Let the macarons sit at room temperature until dry to the touch, it should take about 1 hour depending on the humidity in the room.
Preheat the oven to 280°F and bake the macarons for 15 minutes.
Carefully transfer the macarons to a wire rack to cool completely and start preparing the buttercream filling.
In a large bowl, beat the butter and powdered sugar for 4 minutes until light and fluffy. Add vanilla extract and heavy cream and continue beating until smooth and creamy.
Transfer the buttercream into a piping bag and pipe the filling onto the back of half the shells. Place a Raspberry SkinnyDipped Almond in the center and top with the remaining shells to create a sandwich.
Refrigerate overnight. Enjoy!