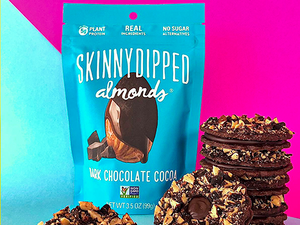 Ingredients for 20 sandwich cookies:
1/2 cup softenend butter
1 cup granulated sugar
1 pinch of salt
1 egg
1¼ cup flour
1/3 cup cocoa powder
1/2 cup almond meal
Ingredients for the decoration:
Method:
In a large bowl, use a spatula to mix the softened butter with granulated sugar and salt.
Add the egg, then flour, cocoa powder and almond meal. Mix until well blended.
Divide the dough in 2 equal pieces, form two flat discs, wrap them in plastic wrap and chill for 30min.
Place one half of the dough between two sheets of parchment paper and roll out to 1/4-inch thickness. Cut out the bottom of the sandwich cookies using a 2-inch round cookie cutter. Place them on a lined cookie sheet and prick each cookie with a toothpick.
Repeat the same process with the second disc of dough, and use a smaller cookie cutter to cut the center of the cookies.
Chill the cut out cookies for 30min and preheat the oven to 320°F.
Bake for about 12min, allow to sit out of the oven for 10min and transfer to a wire rack.
While the cookies are cooling down, start to prepare the ganache. Place the chocolate chips in a medium bowl and set aside.
In a microwave oven, heat the heavy cream for about 1min. Pour the warm cream over the chocolate chips and let it sit for 3min. Gently stir until you get a smooth consistency. Allow to cool down (you can refrigerate to speed up the process) until you get a firmer but still spreadable consistency.
With a spoon spread some chocolate ganache onto the top of your sandwich cookies and sprinkle the crushed SkinnyDipped on. Place them back on the wire rack.
Spread the bottom of the sandwich cookies with chocolate ganache, then sandwich together with the top cookies. Enjoy!