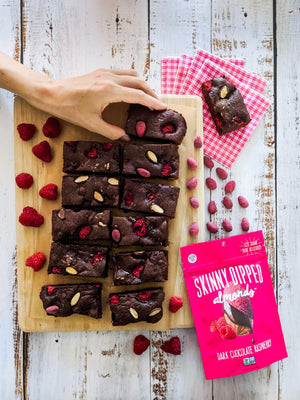 Ooey, gooey and ooh so tasty. Satisfy your sweet tooth with these dark chocolate, raspberry brownies!
Ingredients for 12 pieces
:
1 cup

almond flour

3/4 cup

cocoa powder

1

cup sugar

1/2 cup melted

 butter

4 eggs

1 cup raspberries

3/4 cup crushed Raspberry Skinny

Dipped Almonds
Preheat the oven to 350°F. Line a 13x9-inch baking pan with parchment paper and set aside.


In a large bowl, combine the almond flour, cocoa powder and sugar and mix well. Add butter and eggs and mix until fully incorporated. 

Fold in raspberries and SkinnyDipped using a spatula. 


Transfer the batter to the prepared pan and bake for 20 minutes.


Allow to cool in the pan completely before slicing into 12 pieces. Enjoy!