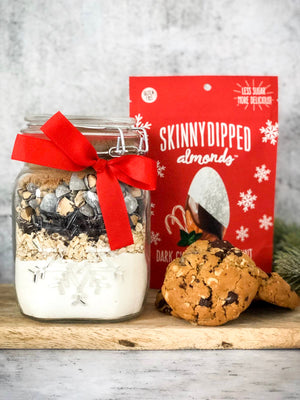 Looking for a DIY gift idea that will warm people's hearts and homes this season? Let them have all the fun with this recipe for peppermint cookies in a jar. It makes the cutest gift, especially paired with a bag (or three) of Dark Chocolate Peppermint SkinnyDipped.
Ingredients for a 1 liter jar (yield 20 cookies):
Dry ingredients (for the jar):
1 1/2 cups all self raising flour
1 tsp baking soda
1/4 tsp salt
1 cup rolled oats
2/3 cup dark chocolate chips
1 cup crushed Dark Chocolate Peppermint SkinnyDipped Almonds 
1/2 cup packed brown sugar
Wet ingredients:
2/3 cup melted butter
1 large egg
Method:
In a small bowl, mix self raising flour, baking soda and salt.
In a 1 liter jar, layer the dry ingredients in the following order: flour mix, rolled oats, chocolate chips, Skinny Dipped Almonds dark chocolate peppermint and brown sugar. You can use a spoon to firmly pack each ingredient in place. 
Seal the lid, tie on a ribbon bow and attach a cookie label with the following instructions:
"Line a baking tray with parchment paper and set aside. Empty the cookie mix jar in a large bowl. Add 2/3 cup of melted butter, 1 large egg and beat with an electric mixer until combined. Form 20 cookie dough balls, place on the prepared baking tray and refrigerate for 30 minutes. Preheat the oven to 350°F and bake for 10 minutes. Let cool and enjoy! ".