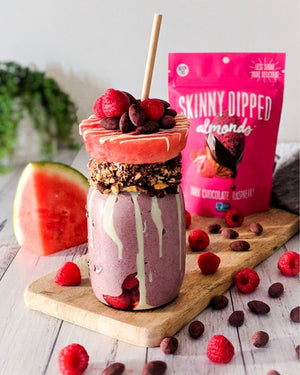 Looking for a berry easy way to enjoy your fruit? Meet your new best friend, the Super Smoothie. This light, refreshing recipe will be sure to satisfy your mid-day craving AND fill you up. Fresh, fruity and frickin' delicious.  
Ingredients:  
(Makes 1 Super Smoothie) 
1 slice of watermelon  
4 tbsp melted white chocolate 
2 tbsp crushed Raspberry Skinny Dipped Almonds  
2 cups almond milk 
1 handful frozen raspberries 
4 dates 
3 tbsp fresh raspberries 
2 tbsp Raspberry Skinny Dipped Almonds  
Method: 
Place an empty mason jar in the freezer for 5 minutes.

 

Make a circle out of 

a 

watermelon

 slice with a cookie cutter, then make a hole in the middle with a smaller cutter to shape it like a donut. Drizzle melted white chocolate on top and set aside.

 

Take the jar out of the freezer. Dip the rim into the melted white chocolate and allow to drip down on the inside of the jar.

 

Roll the chocolate coated rim in the crushed Skinny Dipped Almonds.

 

Blend the almond milk, frozen raspberries and dates together until well combined. 

 

Place 1 tbsp of raspberries in the bottom of the jar and pour

 the milkshake on top.

 

Top the milkshake with the watermelon donut, add the rest of the fresh raspberries and the Skinny Dipped Almonds in the center.

 

Serve i

mmediately. Enjoy!