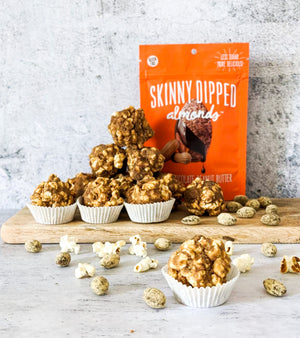 Peanut butter and popcorn lovers unite, the results are in and our latest recipe is sticky, sweet and super freakin delicious. 
Ingredients for 12 popcorn balls:
3 cups popped popcorn
1/2 cup crushed Peanut Butter SkinnyDipped
1/4 cup sugar
1/4 cup maple syrup
1/4 cup natural peanut butter
1/2 tsp vanilla extract
Method:
Whisk together the popped popcorn and crushed SkinnyDipped in a large bowl and set aside. 
In a saucepan over medium heat, boil sugar and maple syrup, stirring occasionally. 
Remove from the heat, add in peanut butter and vanilla extract. Stir to mix well.
Pour over popcorn mixture and mix with a rubber spatula.
Allow the mixture to cool for a few minutes and shape into 12 balls. Let stand at room temperature until firm and enjoy!