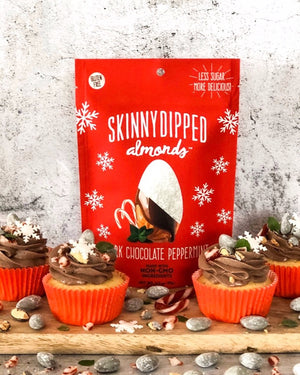 Christmas came early with these homemade chocolate, peppermint cupcakes. But be warned, they disappear quickly when discovered by friends and family!  
Ingredients for 10 cupcakes: 
For the cupcakes: 

1/3 cup plain yogurt 

 


1 cup self-rising flour

 

3 eggs at room temperature

 

1/2 cup white sugar 

 

4 tbsp butter, melted 

 

1/4 white chocolate chips

 

1/4 cup crushed Peppermint Skinny Dipped Almonds

 
For the cocoa frosting: 

3 tbsp butter, softened 

 

1/2 cup powdered sugar 

 

3 tbsp cream cheese 

 

2 tbsp cocoa powder 

 
To garnish: 
1/2 cup crushed Peppermint Skinny Dipped Almonds 

 

Optional: crushed candy cane, edible snow flakes, etc... have fun with it!

 
Method: 
Preheat the oven to 320°F. Place 10 cases in a cupcake pan and set aside. 

In a large bowl, place the following ingredients in this order without mixing: yogurt, self-rising flour, eggs, white sugar and butter. Whisk until combined, do not over-mix. Fold in the white chocolate chips and crushed Peppermint Skinny Dipped Almonds

Divide the batter evenly between the cupcake cases, each case will be 3/4 full. Bake for 18 to 20 minutes, or until a skewer inserted into the middle of a cupcake comes out clean. Transfer the cupcakes to a wire rack and leave to cool completely.




Meanwhile, make the cocoa frosting. Put the butter and powdered sugar in a large mixing bowl and beat with an electric whisk for 4 minutes until pale and fluffy. Add the cream cheese and cocoa powder and whisk until incorporated.

Spoon the frosting onto the cupcakes and sprinkle with crushed Peppermint Skinny Dipped Almonds. Get creative and add some crushed candy canes, edible 

snow flakes

, etc. Enjoy!