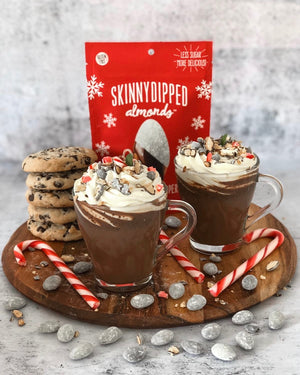 Warm up with this simple, tasty treat for two (or just for one, no shame).
Ingredients  
(Makes 2 servings) 
1 1/2 cup almond milk 

 


1 tbsp maple syrup

 

1/2 cup dark chocolate chips 

 

1/8 tsp peppermint extract

 

Whipped cream

 

1/4 cup crushed 

Peppermint

 

SkinnyDipped

 Almonds

 
Method: 
In a small saucepan, whisk together almond milk and maple syrup. Heat on the stove on medium until bubbles start to form on the side.

Reduce heat to low, add chocolate chips and peppermint extract. Whisk for about 5 minutes, until smooth and creamy.

Pour into two mugs. Top with whipped cream and crushed Peppermint SkinnyDipped Almonds. Enjoy!