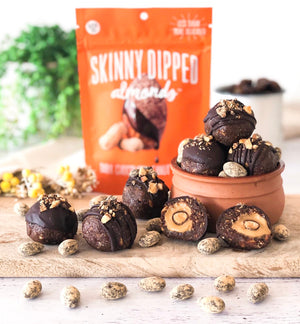 No bake nutty, protein packed, peanut butter surprises. Creamy, smooth inside with a cookie crumble, chocolate almond outside. These indulgent goodies are sure to steal the show, so they are best enjoyed on their own. We recommend doubling the recipe because you're going to want to stock up!  
Ingredients for 8 peanut butter balls: 
8 tbsp natural unsalted peanut butter 
1 1/2 cup Peanut Butter Skinny Dipped Almonds 
1/2 cup medjool dates 
1/4 cup dark chocolate chips 
 
Method: 
Start the day before by making the peanut butter centers. Scoop out 8 separate tbsp's of peanut butter and lay them in a container lined with parchment paper. Place the container in the freezer for at least 1 hour.
Once firmed up, place one Skinny Dipped Almond into the center, forming a small sphere, and set back in the freezer for the night. 
The next day, add the dates and the rest of the Peanut Butter Skinny Dipped Almonds into a food processor and mix until a sticky mixture forms. 
Divide the mixture into 8 equal portions. Roll into balls and insert the frozen peanut butter spheres into the center of each ball.
Melt the chocolate and dip each ball into the chocolate or just drizzle over the top. Sprinkle extra crushed Skinny Dipped Almonds on top for double the deliciousness.
Store them in an airtight container in the fridge. Enjoy!