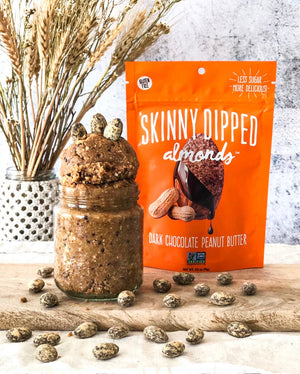 A little bit of almonds can go a long way, especially when they're blended up with peanut butter and chocolate. Be sure to crunch, lick or dip into this wildly delicious new gluten-free discovery.   
Ingredients (makes 1 jar)  
1/2 cup blanched almond flour

 

1/2 cup GF oat flour

 

1 pinch of salt

 

1/2 cup peanut butter 

 

4 tbsp maple syrup

 

4 tbsp almond milk

 

1 tsp vanilla extract

 

1/2 cup crushed Peanut Butter Skinny Dipped Almonds 

 
Method: 
In a medium bowl, whisk the almond flour, oat flour and salt. Set aside.

In a large bowl, using an electric hand mixer, beat the peanut butter with maple syrup, almond milk and vanilla extract.

Add the dry ingredients to the wet and mix until combined.

Use a spatula to fold in the crushed Peanut Butter Skinny Dipped

Transfer the mix into a jar and enjoy! If you store it in the fridge, make sure to bring it back to room temperature before serving.