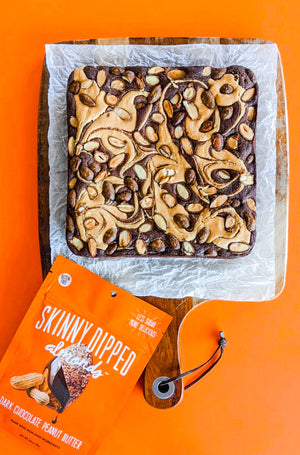 Your sweet tooth called, it asked for gooey peanut butter chocolate brownies topped with crunchy Peanut Butter SkinnyDipped. Turns out your sweet tooth has GREAT taste
Ingredients for a 8x8-inch pan:
1/2 cup melted butter
3/4 cup granulated sugar
2 eggs
1 tsp vanilla extract
1/4 cup all purpose flour
1/4 tsp baking powder
1/2 cup unsweetened cocoa powder 
1 pinch of salt
8 tbsp natural smooth peanut butter
1 cup crushed Peanut Butter SkinnyDipped Almonds
Method:
1. Preheat oven to 350°F. Line a 8x8-inch baking pan with parchment paper and set aside. 
2. Place melted butter and sugar in a large bowl and mix together with an electric mixer.
3. Add eggs and vanilla extract and mix on high speed. 
4. Add flour, baking powder, cocoa powder and salt and mix until just combined. 
5. Fold in half of the crushed SkinnyDipped with a spatula and pour brownie batter into the prepared pan. 
6. Drop tbsp of peanut butter onto the batter and swirl using the tip of a knife. 
7. Top with remaining SkinnyDipped and bake for 12-15 minutes. 
8. Allow to cool completely before cutting into squares. Enjoy!