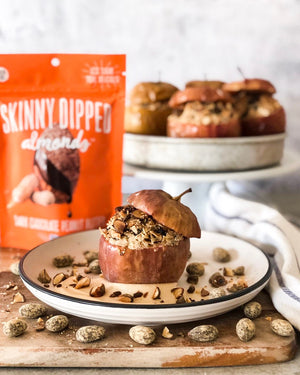 Fall is in the air, sweater weather has commenced, the fire is crackling, and warm peanut butter baked apples are in our bellies. There's no better feeling, try it for yourself!  
Ingredients (makes 4 apples)  
4 apples

 

4 tsp melted butter 

 

1/3 cup GF oats

 

1/3 cup almond meal

 

2 tbsp maple syrup

 

1/2 cup crushed Peanut Butter Skinny Dipped 

 
Method:  
Preheat the oven to 350 °F. 

Cut off the apple tops and core the apples carefully with a knife without cutting through the bottom. 

Prepare the filling by mixing together all the remaining ingredients.

 

Spoon the filling mixture into the apples and place them on a baking tray with the tops on the side.

Bake for 25-30 minutes until tender and golden. 

Let cool down for 15 minutes, put the tops back on the apples and serve warm. Enjoy!