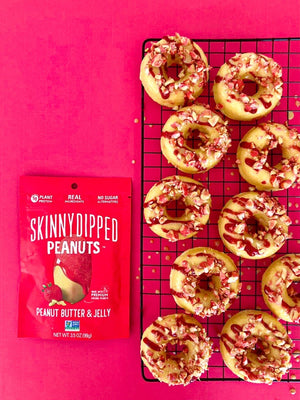 Ingredients for 12 donuts :
For the donuts:
¼ cup melted unsalted butter
2 eggs
2/3 cup milk (any type)
1 tsp vanilla extract
2 cups flour
½ cup granulated sugar
½ tsp salt
For the glaze:
2 tbsp milk (any type)
3 tbsp smooth peanut butter
¾ cup powdered sugar
One 3.5oz bag of SkinnyDipped PB&J Peanuts crushed
Strawberry jelly (optional)
Method:
Preheat the oven to 350°F and spray your donut pan with nonstick cooking spray.
In a large bowl, whisk the melted butter, eggs, milk and vanilla extract.
In a medium bowl, whisk the flour, granulated sugar and salt.
Add the dry ingredients to the wet ingredients and mix until combined.
Transfer the batter into a piping bag and fill the donut holes about ¾ full.
Bake for about 8 minutes, then transfer the donuts onto a wire rack. Prepare the glaze while they cool down.
In a medium bowl, whisk together the milk, peanut butter and powdered sugar until smooth.
Dip the donuts into the glaze, top with the crushed SkinnyDipped Peanuts and drizzle the strawberry jelly on top. Enjoy!