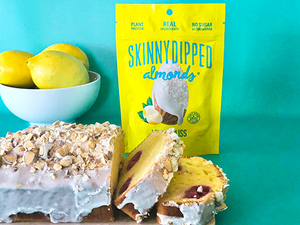 Ingredients for the loaf:
1/3 cup softened butter
1/2 cup sugar
4 eggs
2 tbsp lemon rind
Juice of one lemon
1¼ cup flour
1 handful of raspberries
Ingredients for the glaze:
Method:
Preheat the oven to 350°F. Grease and line a loaf pan with baking paper, set aside.
With an electric mixer, cream the butter and sugar together until light and fluffy.
Add the eggs, one at a time, beating well after each addition. Add lemon rind and juice and beat again.
Add the flour and beat until just combined, don't overmix.
Fold in the raspberries and pour the batter into the prepared pan.
Bake for about 40 min or until a skewer inserted into the center of the cake comes out clean. Allow the cake to cool completely at room temperature before turning it out onto a wire rack.
Prepare the glaze while the cake is cooling down. Mix the greek yogurt and powdered sugar until smooth and combined. Spread the glaze over the loaf and top with the crushed Lemon Bliss. Slice and enjoy!