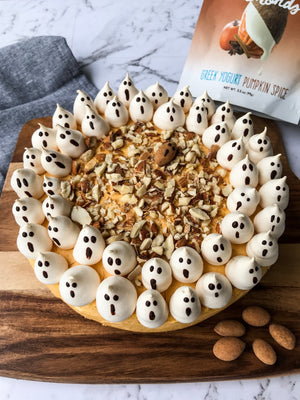 Who doesn't love cheesecake? This Halloween-ready recipe is a crowd pleaser and it's gluten-free! The crust is made with Pumpkin Spice Skinny Dipped Almonds and is the best fall treat! Replace your meringue ghosts with more almonds to make this fit in with your Thanksgiving decor.
Ingredients for an 8 inch springform pan (8 to 12 servings):
For the crust:
1 cup Greek Yogurt Pumpkin Spice Skinny Dipped Almonds
1/4 cup melted butter
2 tbsp maple syrup
5 dates 
For the filling:
2 packages of cream cheese (2x8 oz) 
3/4 cup heavy whipping cream 
1 tsp cinnamon
1 tsp vanilla
For the decoration:
1 egg white at room temperature
1/2 cup powdered sugar
1 tsp dark chocolate chips
1/4 cup crushed Greek Yogurt 
Pumpkin Spice Skinny Dipped Almonds
Method for the crust:
Line the springform pan with parchment paper and set aside.

In a food processor, pulse all the crust ingredients until combined. 

Transfer the crust mixture to the pan and press firmly into the bottom to form an even base.
Method for the filling:
In a large bowl, beat the cream cheese and heavy cream with an electric mixer until fluffy. 
Add the rest of the filling ingredients and beat well until smooth, scraping the sides of the bowl. 
Pour the filling onto the crust, smooth the top with a rubber spatula and refrigerate at least 5 hours or overnight.
Method for the decoration:
Preheat the oven to 250°F and line a baking sheet with parchment paper.
In a medium bowl, use an electric mixer to beat the egg white until foamy and stiff peaks.
Add the powdered sugar one teaspoon at a time until all incorporated. The meringue should be firm and silky.
Spoon the mixture in a piping bag fitted with a round nozzle and pipe out mini meringue peaks on the parchment paper. Make sure to leave 1 inch spaces in between. 
Bake for 35 to 45 minutes, until the meringues are dry to touch. 
Melt the dark chocolate chips in the microwave. Use a chocolate dipped toothpick point to draw the eyes and mouth on each meringue to create mini ghosts. 

Garnish the edges of the cheesecake with the mini meringue ghosts and top the middle with crushed Greek Yogurt Pumpkin Spice Skinny Dipped Almonds.