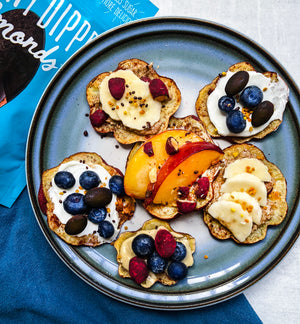 Looking for a tasty snack that's low glycemic and gluten free? Our friend @servingupsimplicity created this recipe that's perfect for breakfast, snacking or served as an appetizer at your next dinner party! Find her recipe for sweet potato toast below.

Sweet potato toast:
1. Slice your sweet potato into about 1/4-inch thick circles, brush with a little coconut oil and sprinkle with cinnamon. Roast at 400 for about 30 min, flipping half way.
2. Top with all your favorites: in this case I used yogurt, almond butter, cashew butter, blueberries, bananas, peach slices, and Skinny Dipped chocolate covered almonds (and raspberry chocolate covered almonds)
Simple and delicious! Enjoy!