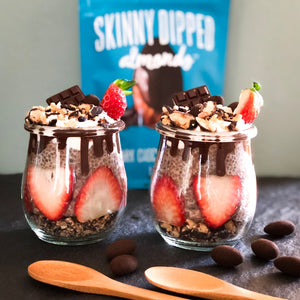 What you see is what you get! Our Skinny Dipped Chia Bowls are made with only 5 ingredients, and couldn't be tastier. This simple, low calorie snack will keep you satisfied and full through the day. Healthy snacking never tasted (or looked) so good. 
Ingredients:  
(Makes 2 servings) 
1/4 cup chia seeds

 

1 cup almond milk 

 

1 tbsp maple syrup

 

1 tbsp of cocoa powder

 

1/2 cup crushed Dark Chocolate Skinny Dipped Almonds

 

4 strawberries (or whatever type of fruit you like)

 

4 heaping tbsp of Greek yogurt

 
 
Method:  
Place the chia seeds, almond milk, maple syrup and cocoa powder in a bowl and stir well. Store in the fridge for at least 30 minutes or overnight. 

Place 2 tbsp of crushed

Skinny Dipped

Almonds in the bottom of 2 transparent jars. 

 

Cut 2 strawberries into slices and place them all around the inside of the jars.

Melt the dark chocolate in the microwave and use a spoon to drip it on the inside of the rim of the jars. 

Divide the chia pudding between the two jars. 

Top each jar with half of the Greek yogurt and the remaining crushed

Skinny Dipped

Almonds. Finish with the strawberries to garnish. Enjoy!