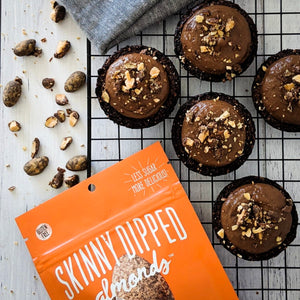 2019 mood: peanut butter! These mini tarts are made with a Skinny Dipped crust (omg) and a peanut butter filling. What more could you want in a dessert?
Ingredients for 6 mini tarts:
For the bases:
3/4 cup Peanut Butter Skinny Dipped Almonds
1/4 cup pitted dates
1 tbsp maple syrup
For the filling:
2 ripe bananas
1 ripe avocado
6 pitted dates
2 tbsp of peanut butter
2 tsp of cacao powder
A tbsp of crushed 
Peanut Butter Skinny Dipped Almonds
Method for the bases:
Preheat the oven to 350 F° (180 C°) and g

rease a muffin tin with non-stick spray.

Put all the base ingredients together in a food processor and pulse until it's fully mixed.

Divide the base mixture into 6 equal parts and fill 6 muffin holes, using a spatula to compress the mixture.
Bake for 8 minutes and allow to cool before removing carefully the bases from the tin.  
Method for the filling:
Place all the filling ingredients in the food processor and blend into a smooth mixture.

Spoon the mixture into the tart bases, sprinkle with crushed Peanut Butter Skinny Dipped Almonds and enjoy!