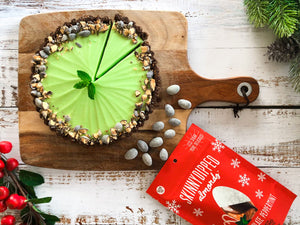 A SkinnyDipped twist on a favorite family classic that we grew up with every Christmas eve. This Grasshopper pie is not only minty and delicious but it will steal the show at any desert table with its bright green color and snowy white finish from the Peppermint SkinnyDipped crust.
Ingredients for 8 servings:

For the crust:
1/2 cup almond meal
1 cup Peppermint SkinnyDipped Almonds
1 tbsp maple syrup
1 tbsp melted butter
A pinch of salt

For the filling:
18 large marshmallows
1 1/4 cup heavy cream (1/2 cup + 3/4 cup)
1 tbsp creme de cacao
1 tbsp creme de menthe
Optional: 1 or 2 drops of green food coloring

To garnish:
1/2 cup crushed Peppermint SkinnyDipped Almonds
Method:


Preheat the oven to 350°F.
Place all the crust ingredients in a food processor and pulse until combined.
Press the mixture into an 8-inch pie pan with a removable bottom and bake for 10 minutes. Set aside.
Prepare the filling by cooking the marshmallows and 1/2 cup heavy cream in a saucepan on low heat. Stir until the marshmallows are completely melted. Remove from the stove and add the creme de cacao, creme de menthe and green food coloring if using. Transfer to a small container and chill for about 20 minutes, until it begins to thicken.
In a medium bowl, beat 3/4 cup heavy cream and fold into the slightly thickened marshmallow mixture. Pour the filling into the Skinny Dipped Almonds crust and refrigerate overnight.
Before serving, sprinkle the crushed Skinny Dipped Almonds around the edge of the pie. Enjoy!