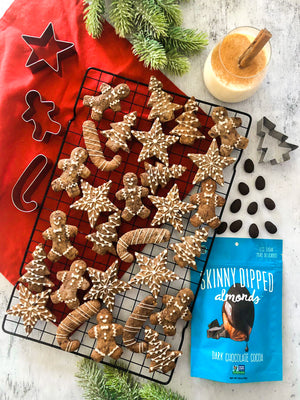 Gingerbread cookies are a holiday baking staple and there's no better way to celebrate the season than with some delicious iced gingerbread cookies! Even better, these cookies have a special secret ingredient... SkinnyDipped Almonds!
Ingredients for about 30 cookies:
Ingredients for the cookies:
1/2 cup Cocoa SkinnyDipped Almonds
1 1/4 cups all-purpose flour 
1/2 tsp baking soda
1/4 tsp salt
2 tsp ground cinnamon
2 tsp ground ginger
1/2 tsp ground cloves
1/2 tsp ground nutmeg
1/3 cup unsalted butter at room temperature
1/4 cup packed brown sugar
1/4 cup maple syrup
1 egg at room temperature
1/2 tsp vanilla extract
Ingredients for the icing:
1 cup powdered sugar
1/2 tsp vanilla extract
1 tbsp milk (any kind)
Method:
Place the SkinnyDipped into a food processor and pulse until finely crumbled. Transfer to a large bowl, add flour, baking soda, salt, cinnamon, ginger, cloves and nutmeg. Whisk together and set aside.
In another large bowl, beat the butter and brown sugar together with an electric mixer until light and fluffy. Add in maple syrup, egg and vanilla and beat until combined. 
Add the flour mixture and beat until just combined.
Form 4 balls of dough, flatten them with your hands and refrigerate for at least 1 hour. 
Preheat the oven to 350°F and line baking sheets with parchment paper. Roll the dough evenly between two layers of parchment paper until approximately 1/4-inch thick. 
Cut out your favorite cookie shapes, transfer to the prepared baking sheets and bake for approximately 8 minutes (the exact cooking time may vary depending on the size of your cookie cutters). Re-roll the dough and refrigerate again to cut out more cookies. Transfer the cookies to a wire rack and let to cool completely before decorating.
Prepare the icing. Place the powdered sugar and vanilla extract into a small bowl. Gradually add the milk and whisk until smooth. 
Transfer the icing to a piping bag and decorate the cookies as desired. Enjoy!