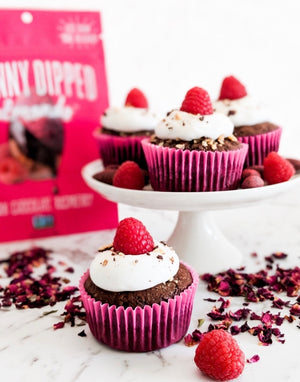 No flour, no artificial ingredients, no nastiness at all. The secret ingredient? A WHOLE lot of love. We promise these dark chocolate mini cupcakes won't let you down. So, will 

you be our Valentine? 

 

INGREDIENTS FOR 9 CUPCAKES:

 

1/2 cup of coconut sugar
2 eggs
3/4 cup of grated zucchinis 

 

4.6 oz. of chocolate (70% cocoa)
2 heaped tbsp of chocolate p

rotein powder

2 heaped tbsp of almond meal
2 tsp of b

aking powder

9 fresh raspberries 
Crushed Raspberry Skinny Dipped Almonds

To garnish:

Coconut yogurt
Crushed Raspberry Skinny Dipped Almonds
Fresh raspberries

HOW TO:

Preheat the oven to 320°

 (160°C) fan-forced (FF) and line a cupcake tray with cases.

In a medium size bowl, mix the coconut sugar with the eggs. Once combined, add the grated zucchinis and mix again.

In a small bowl, melt the chocolate in the microwave. Once melted, add it to the egg mixture and mix.

Add the TIU choc. protein powder, almond meal and the baking powder to the mixture, and whisk until a batter has formed.

Add the crushed Raspberry Skinny Dipped Almonds to the batter and mix roughly. 

Pour the batter into the cupcakes cases and press in 1 raspberry into the middle of each cupcake.

Bake for 18 to 20 minutes. 

Allow the cupcakes to cool in the tray for at least15 minutes before decorating them.

Once cool, use a spoon or a piping bag to cover each cupcake with coconut yogurt, and sprinkle them with crushed Raspberry Skinny Dipped and fresh raspberries.