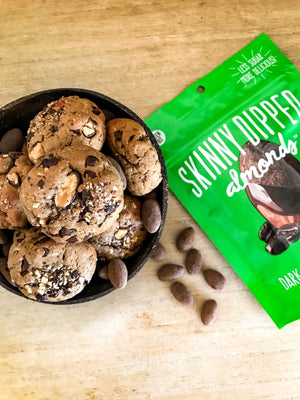 It's finally baking season and we can't wait to warm up our homes with tasty recipes that we can share with friends. This Espresso Chocolate Chip cookie recipe is bound to become a new favorite!

INGREDIENTS:
1/4 cup maple syrup
2 tbsp coconut oil, melted
2 tbsp almond milk
1 tsp coffee extract
1 pinch of baking soda
1/4 tsp baking powder
1 tbsp corn starch
1/4 tsp salt
2/3 cup all purpose flour
1/4 cup dark chocolate chips
1/4 cup crushed Espresso Skinny Dipped Almonds

HOW TO:
1. Preheat oven to 350°F.
2. In a medium bowl, mix the maple syrup with the coconut oil.
3. Add in the milk and coffee extract and mix on medium speed until incorporated.
4. Add in corn starch, all purpose flour, baking powder, baking soda and salt. Mix on the lowest speed until all the dry ingredients are just incorporated.
5. Add in crushed Skinny Dipped Espresso Almonds and chocolate chips and mix on the lowest speed until they are evenly incorporated into the dough.
6. Divide the dough into 8 equal balls, place them on a baking sheet and bake for 8 minutes. Let cookies cool at least 10 minutes.

Enjoy!