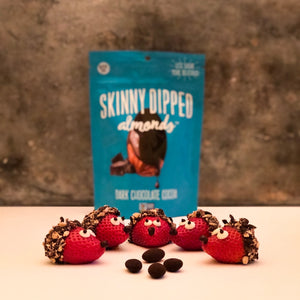 How often does your snack make you smile? Probably not enough 🙂 These adorable chocolate dipped strawberries are overflowing with cuteness and nutrients. You'll never have a problem convincing your kiddos to eat their fruit again!  
Ingredients: 
(Makes 5 strawberry hedgehogs) 
5 big strawberries 
1/2 cup of crushed Dark Chocolate Cocoa Skinny Dipped almonds 
1/2 cup of dark chocolate chips 
1 tbsp of white chocolate chips 
 
Method:  
Clean the strawberries, remove the stems and dry them.  

Melt the dark chocolate into the microwave.

Dip one strawberry at a time into the melted chocolate. Make sure you hold them by the opposite end, the chocolate 

has to 

coat only 1/3 of the strawberries. 

 

Immediately dip the chocolate covered strawberries into the crushed

Skinny Dipped

Almonds and let them sit on a parchment paper covered plate. 

 

Melt the white chocolate chips and use a piping bag to draw the eyes. You can also use the tip of a skewer if you don't have a piping bag.

Let them harden into the fridge for 5 minutes. Then keep drawing the face. Pour the rest of the melted dark chocolate into another piping bag (or use another skewer) to draw one dot on the point of the strawberry to make the nose, and one dot on each eye to finish the eyes. Enjoy!