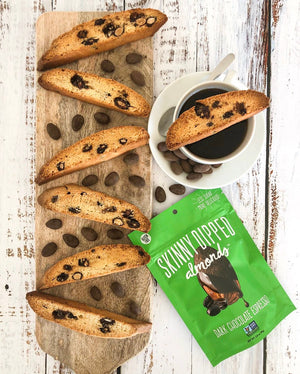 We all know there's nothing as satisfying as a crunchy, lightly toasted biscotti to go with your cuppa joe when you wake up, so try this recipe out and enjoy kicking off your morning right!  
Ingredients (makes 16 biscotti): 
1/2 cup butter at room temperature

 


3/4 cup granulated sugar

 


2 eggs

 


1 1/2 cups all-purpose flour

 


3/4 cup blanched almond flour

 


1/2 teaspoon baking powder

 


1 pinch of salt

 


1 cup Espresso Skinny Dipped 

 
Method: 
 
Preheat the oven to 325 °F. Line a baking sheet with parchment paper and set aside.

In a large bowl, cream the butter and granulated sugar with an electric mixer until light and fluffy. One at a time, beat in the eggs. 

In a medium bowl, combine all-purpose flour, blanched almond flour, baking powder and salt. With a rubber spatula, gradually add the dry ingredients to the large bowl mixture and stir until well blended. Mix in the Espresso Skinny Dipped.

Divide the dough in half and shape 

into two

(8-inch x 3-inch) rectangles. Transfer to the prepared baking sheet, spacing apart, and bake for 30 minutes. 

 

Let cool for 10 minutes and with a serrated knife cut each rectangle diagonally into 8 slices. Arrange them cut side down on the baking sheet and bake for another 20

minutes, turning 

them over half way through

. 

 

Let cool completely and enjoy with a cup of coffee!
*Can be made ahead and stored in an airtight container at room temperature up to 2 weeks.