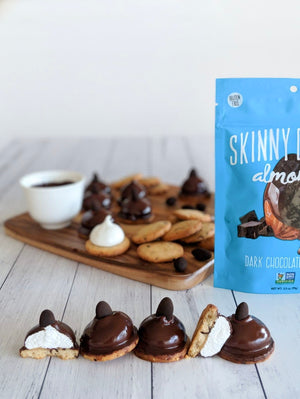 These mini s'mores cookies are the perfect treat to bring into classrooms for the holidays or to bring to work to share! Don't forget to tag us in your photos if you try these!
Makes approximately 30 pieces: 
For the cookies:
1/2 cup  butter at room temperature
3/4 cup icing sugar
1 egg
1/2 tsp vanilla extract
1⅓ cup all purpose flour
1 tsp baking powder
1/2 cup crushed Dark Chocolate Cocoa Skinny Dipped Almonds
For the marshmallow icing: 
4 egg whites
1 cup sugar
1/4 tsp cream of tartar
1/2 tsp vanilla extract
For the chocolate coating:
9 ounces dark chocolate
2 tbsp canola or vegetable oil
30 Dark Chocolate Cocoa Skinny Dipped Almonds
Method for the cookies:
Whisk butter and sugar together until light and fluffy.
Add the egg and vanilla extract and mix well.
Gradually add the flour and the baking powder to the butter mixture.
Add the crushed 

Dark Chocolate Cocoa Skinny Dipped Almonds.

Roll the cookie dough evenly between two pieces of baking paper and refrigerate for 30 minutes to make it easier to cut out. 

In the meantime preheat the oven to 350°F (180°C).

Once hard enough, take the cookie dough out of the fridge and cut out circles of 2 inches diameter.  

Bake the cookies for 8 to 10 minutes and set aside.
Method for the marshmallow icing: 
Place the egg whites, sugar and cream of tartar in a heat proof bowl.
Set over a saucepan with simmering water and whisk continuously until sugar is dissolved. It should take 4 to 5 minutes.
Remove the bowl from the saucepan and with an electric beater, whisk on high speed until stiff peaks form and add the vanilla extract.
Transfer the marshmallow mixture to a piping bag

fitted with a round nozzle and pipe out peaks on the cookies.
Method for the chocolate coating:
Melt the dark chocolate in the microwave. 

Start with 1 minute on medium high, stir and repeat heating at shorter intervals until completely melted.

Add oil to melted chocolate and stir until smooth. 

Transfer to a 

deep and high sided container.

Dip each cookie gently upside down into the chocolate mixture and let excess drip off. Place onto a wire rack and top with a Dark Chocolate Cacao Skinny Dipped Almond

. 

Once all done, refrigerate the S'mores until the chocolate coating is firm and enjoy!