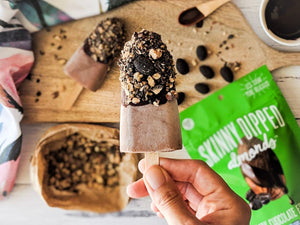 Cold, creamy, crunchy and cosmically good. Enjoy the taste of summer the extra dipped and delicious way. These better-for-you Skinny Dipped Espresso flavored fudgesicles are a serious hit, so be sure to make enough for your pals next time you're looking to chill out on a hot day!  
Ingredients: 
(Makes 8 fudgesicles) 

1 can full-fat coconut milk  
4 tbsp cocoa powder 
4 tbsp maple syrup or honey  
1/2 cup melted dark chocolate 
1/2 cup crushed Dark Chocolate Espresso Skinny Dipped Almonds 

Method: 
Blend the coconut milk, cocoa powder and maple syrup/honey together until completely smooth

Pour the mixture into the popsicle molds, insert the sticks and freeze for about 5 hours

Remove from the freezer and run the fudgesicles under warm water to release the molds. Dip the fudgesicles into the melted dark chocolate and immediately into the crushed 

Skinny Dipped

 Almonds. Enjoy immediately or place them back into the freezer for later!