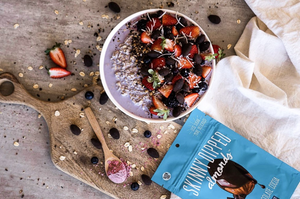 Yep, this could be your brekkie. And it's full of antioxidants! This seriously scrumptious bowl of goodness is more than just a pretty picture. It's loaded with nutrients from almonds, berries and acai making it rich is vitamins and high in fiber. Leave it in the fridge overnight and you'll have this to look forward to in the AM!  
Ingredients: 
(Makes 1 bowl)  
For the overnight oats: 
1 cup 

gluten free 

rolled oats

 

2/3 cup almond milk

 

1/3 cup 

greek

 yogurt 

 

2 tbsp acai powder

 

2 tbsp maple syrup

 

1/2 tsp vanilla extract

 
 
For the toppings:  

2 tbsp of Cocoa 

Skinny Dipped

 Almonds 

 

2 tbsp of crushed Cocoa Skinny Dipped Almonds 

 

A variety of fresh berries (your choice)

 

Shredded coconut

 
Method: 
Start by preparing the overnight oats by mixing all the ingredients in a bowl until well combined.

Cover with a lid and store in the fridge for at least 2 hour or overnight.

The next morning, add the berries, Skinny Dipped and coconut to top it off and enjoy!