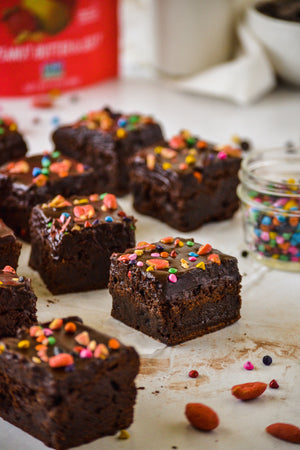 A super fudge and rich chocolate brownie, topped with that classic cosmic chocolate frosting, and those classic cosmic sprinkles. The best part is the SkinnyDipped Peanut Butter & Jelly Peanuts on top, which add the perfect salty crunch! These brownies are going to bring you back to your lunch box days!
INGREDIENTS
Brownies
1 cup Salted Butter (melted) • 2 cup sugar
1 cup brown sugar
2 tsp vanilla extract
4 eggs
2 tbsp corn syrup
1 cup flour
1 cup coco powder
1/2 tsp salt
Frosting
1 1/2 cups semi sweet chocolate
1/2 cup heavy cream
Cosmic sprinkles
1/4 cup SkinnyDipped Peanut Butter & Jelly Peanuts (lightly crushed)
INSTRUCTIONS
Brownies
In the bowl of a stand mixer, combine your melted butter, sugar and brown sugar and mix until combined. Add your eggs, vanilla, corn syrup and mix until combine.
In the same bowl add your flour, coco powder, and salt. Mix until combined.
Line a 9×9 inch baking dish with parchment paper. Allow the parchment paper to hang over the edges for easy removal.
Transfer your brownie batter to your baking dish and spread out evenly. Bake at 350 degrees for 30 minutes.
Let cool
Frosting
In a medium sauce pan add your heavy cream and simmer on medium low heat until lightly
simmering.
Place your semi sweet chocolate in a heat proof bowl
Pour your hot cream over your chocolate and let sit for 2-3 minutes. stir rigorously until completely melted.
Pour your frosting over your brownies and spread out evenly
While the frosting is still warm sprinkle on your cosmic sprinkles and crushed SkinnyDipped
Peanut Butter & Jelly Peanuts
Place in the fridge and let frosting cool until frosting is hard to the touch.
Cut and enjoy!