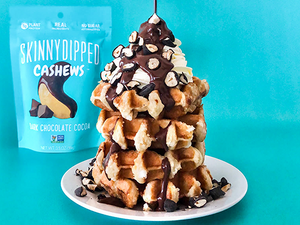 Ingredients for 15 waffles:
For the waffles:
4 cups all-purpose flour
1 cup unsalted butter at room temp
2 tbsp sugar
1 cup full fat milk at room temp
3 tbsp dry yeast
2 eggs
1/2 tbsp salt
1 cup pearl sugar
For the decoration:
Method:
In a large bowl, add the flour and yeast and mix. Dig a little well in the middle and pour the milk and eggs.
Start mixing with your hands in the center of the well, blending the flour progressively. When 3/4 of the flour is incorporated, add butter and continue to incorporate the rest of the flour.
When everything is well blending, add the sugar and salt and continue mixing with your hands for 5 minutes.
Put a cloth on the bowl and let the dough rest for 30 min.
After 30 min, mix the pearl sugar with your hands. Divide the dough into 15 balls and allow them to rest for about 45min at room temp with a cloth covering them.
Preheat your waffle maker at high temperature and cook each waffle for about 3 min.
Decorate with whipped cream, chocolate sauce and top with crushed SkinnyDipped Cashews.
Enjoy!