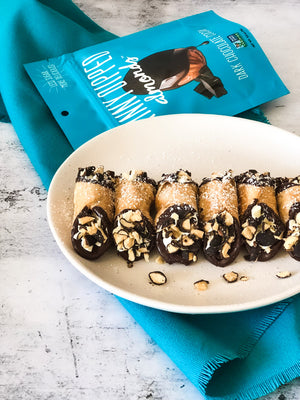 Ever been in a I-wanna-a-chocolate-treat-that's-not-too-sweet-but-just-sweet-enough-give-me-chocolate-NOW kinda mood? We feel ya, that's why we made these to solve all your problems. Get your Cocoa Cannoli on!
Ingredients for 15 small cannoli:
2 cups whole milk ricotta cheese 
15 small cannoli shells
1/4 cup melted dark chocolate
1 tsp vanilla extract
3/4 cup powdered sugar 
1/2 cup crushed Cocoa SkinnyDipped Almonds 
Method:
1. Drain the ricotta using a cheese cloth, place in the fridge for at least one hour. 
2. Dip each end of the cannoli shells into the melted chocolate and set aside. 
3. Once drained, place the ricotta, powdered sugar and vanilla extract into a large bowl and mix well. 
4. Transfer the filling into a pastry bag and pipe into the cannoli shells. 
5. Dip each end of the cannoli in the crushed Skinny Dipped Almonds. 
6. Dust cannoli with powdered sugar and enjoy!