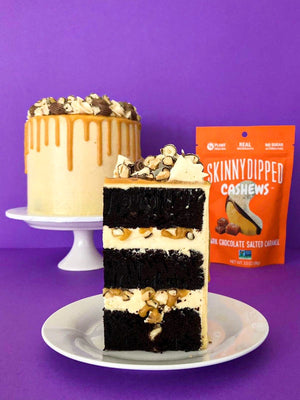 Ingredients:
For three 6 inch chocolate cake layers:
1.5 cup flour
3/4 cup unsweetened cocoa powder
1.5 tsp baking soda
1.5 cup powdered sugar
3 eggs
1/3 cup softened butter
1 cup milk (any kind)
2/3 cup hot water
For the caramel sauce:
3/4 cup granulated sugar
1/2 cup salted butter
2 tbsp water
3/4 cup heavy cream
For the salted caramel buttercream:
1 cup softened butter
1 3/4 powdered sugar
1/2 cup salted caramel sauce
For decoration:
Method:
For the chocolate cake layers:
Preheat the oven to 350°F. Grease three 6 inch cake pans and line them with baking paper.
In a large bowl, place the flour, cocoa powder, baking soda and sugar and mix.
Add butter, milk and mix well.
Pour the boiling water and mix until everything is blended.
Divide the batter between the three cake pans and bake for 30 min.
Allow the cakes to cool in their tins for 10 min before removing them to a wire rack to cool completely.
Once cooled, trim the top of each cake evenly with a serrated knife. Set aside.
For the caramel sauce:
Place the granulated sugar, salted butter and water in a saucepan. Cook on medium heat mixing regularly with a wooden spoon.
Once the mixture reaches a golden amber color, remove from the heat and gradually add the heavy cream.
Keep mixing with the wooden spoon and put it back on the stove for another minute.
Once the consitency is smooth transfer to a jar and set aside to cool completely.
For the caramel buttercream:
Place the butter and sugar into a large bowl and mix for 5 minutes.
Add 1/2 cup of caramel sauce and keep mixing until well blended.
Assembling the cake:
Transfer one cake layer to a plate. Spread with 1/4 of the caramel buttercream, add a few tsp of caramel sauce and sprinkle some crushed SkinnyDipped Salted Caramel Cashews. Top with a second layer of cake and repeat the previous process until you top with the third cake layer.
Spread the top and sides of the cake with the rest of the buttercream (just make sure to keep some for decoration). Use a spatula or a cake scraper to smooth out the buttercream as you go to cover the cake. Chill for 20 minutes.
Top the cake with the caramel sauce, letting it drip on the sides.
Put the remaining buttercream in a piping bag with a rose pipe tip and decorate the top of the cake. Finish by sprinkling the remaining crushed SkinnyDipped Cashews (or any of your favorite flavors!) on top. Serve and enjoy!