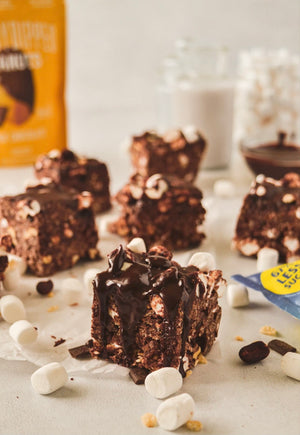 These double chocolate rice krispie treats are a decadent twist on a childhood classic. Loaded with SkinnyDipped Baking Bits, SkinnyDipped Milk Chocolate Peanuts, whole marshmallows and topped with a chocolate drizzle, this is the best rice krispie treat recipe!
INGREDIENTS
Rice Krispie Treats
16 oz mini marshmallows (put one cup aside) about one standard large bag total
1/2 cup salted butter
1/4 tsp salt
1/4 cup cocoa powder
5 cups rice krispie cereal
1 cup SkinnyDipped Baking Bits
1 cup SkinnyDipped Milk Chocolate Peanuts
Chocolate Drizzle
1/2 cup SkinnyDipped Baking Bits
1/4 cup heavy cream
INSTRUCTIONS
Rice Krispie Treats
In a large bowl add your rice krispie cereal, 1 cup of your miniature marshmallows, SkinnyDipped Baking Bits, and SkinnyDipped Milk Chocolate Peanuts. Mix until combined.
In a medium sauce pan, add your butter and melt on medium heat until completely melted. Then immediately add your salt, the rest of your marshmallows, and cocoa powder to your pan. Mix vigorously and continuously until your marshmallows are completely melted and combined. Again, be sure to stir continuously so that your mixture does not burn! Once melted take off the heat.
Let mixture cool for about 10 minutes at room temperature.
Pour marshmallow mixture over your rice krispie mixture and stir until combined.
Line a 9×9 inch baking dish with parchment paper. Allow the parchment paper to hang over the edges for easy removal.
Transfer mixture into your baking dish and use a spatula or your hand to press your rice krispies into the bottom of the dish.
Place in the fridge and let chill for at least one hour.
Chocolate Drizzle
In a small sauce pan heat your heavy cream on medium low heat until lightly simmering.
Place your SkinnyDipped Baking Bits in a heat proof bowl. Pour your hot cream over your chocolate. Let this sit for about 2-3 minutes. Then stir until completely melted and smooth.
Using a spoon, drizzle your chocolate over your rice krispies.
Cut into 16 equal squares and enjoy!