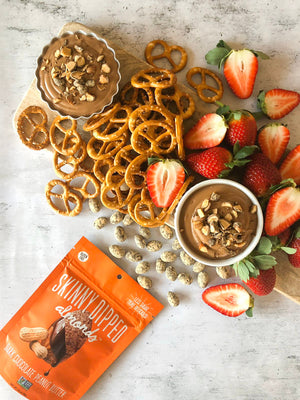 Get your pretzels ready for ultimate dipping 🥨 Our newest recipe is one for the books! A peanut butter hummus, gluten free of course. Share the recipe at your next gathering!
Ingredients: 
1 can cooked chickpeas, rinsed and drained

 

1/4 cup almond milk

 

3 tbsp maple syrup

 

2 tbsp peanut butter 

 

2 tbsp cocoa powder

 

1 pinch of salt

 

3 tbsp crushed Peanut Butter Skinny Dipped Almonds 

 

Method: 
Place all of the ingredients (except the Skinny Dipped) into a blender and process on high speed until smooth. 

 

Transfer into a small serving dish and top with crushed 

Skinny Dipped

Serve with pretzels, fresh fruits, and any other delicious dippers!