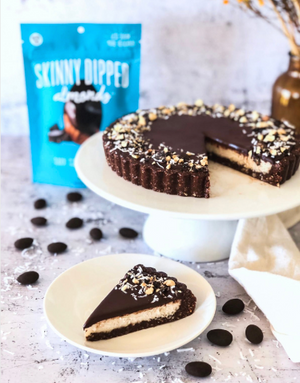 There's only one way to slice it; this tart is dark and dangerously delicious, compliments of coco & cocoa. Are you ready to dive in?  
Ingredients (for an 8-inch tart pan with a removable bottom) 
For the base: 
1 cup 

Cocoa Skinny Dipped 

 

1/2 cup 

medjool

 dates

 

1

 

tbsp melted coconut oil

 
 
For the filling: 
1 c

up coconut cream

 

1 cup desiccated coconut

 

2 tablespoons coconut oil

 


2 tbsp maple syrup

 
For the chocolate layer
:
1/2 cup dark chocolate chips

 


1/2 cup coconut cream

 
 
To garnish: 
2 tbsp crushed

 Cocoa Skinny Dipped 

 

2 tbsp 

desic

c

ated

 coconut 

 
 
Method: 
Start by making the tart base. Place the base ingredients into a food processor and pulse a few times until it forms a sticky and crumbly mixture. Press this mixture into the bottom and sides of the tart pan and refrigerate while you prepare the filling.

Place the filling ingredients into a small saucepan and bring to a gentle simmer for 5 minutes, stirring frequently.  Turn off the heat and let cool down a few minutes. 

Spread the filling mixture evenly over the prepared base layer and place the tart pan back into the fridge. 

Prepare the chocolate layer by adding the chocolate chips to a glass bowl. Heat the coconut cream and pour it hot over the chocolate chips. Stir briskly until smooth, spread evenly over the tart and refrigerate for at least 2 hours.

Before serving, take out the tart from the tin and garnish with crushed 

Skinny Dipped A

lmonds and 

desic

c

ated

 coconut. Enjoy!