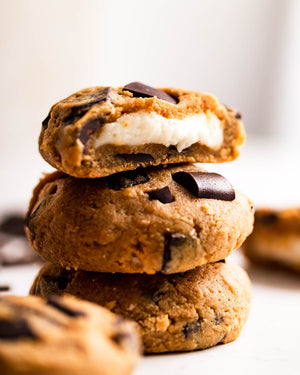 Makes 12 Cookies
For the Cookies
1 3/4 cups Oat flour
7 tablespoons Butter, softened
¾ cup Granulated Sugar
½ Pumpkin Puree
½ tsp Baking Powder
½ tsp Pumpkin Spice
½ tsp Cinnamon
½ cup SkinnyDipped Semi-Sweet Baking Bits
1 tsp Vanilla
Cheesecake filling
6 oz cream cheese, softened
⅓ cup Granulated Sugar
 Instructions
Prepare a baking sheet with parchment or a silicone baking mat and line a small plate with parchment. In a medium bowl beat the cream cheese and granulated sugar with an electric mixer until smooth. Scoop about 1 heaping tablespoon of cream cheese onto the parchment lined plate and place in the fridge to chill while you make the cookie dough.

In a large bowl whisk the butter, sugar, pumpkin puree, vanilla, and spices until smooth. Add the dry ingredients and fold with a spatula until a thick dough forms. Fold in the chocolate chips and using a standard cookie scoop, portion 12 dough balls onto the baking sheet and place in the refrigerator for 30 minutes. Preheat oven to 350F.

To assemble the cookies: Flatten a ball of cookie dough in the palm of your hand, then place a ball of chilled cream cheese in the middle of the dough. Gently form the dough around the cream cheese, pinching the ends together so the cream cheese is completely covered by dough.

Place the cookie ball on the prepared baking sheet and repeat with the remaining dough balls.

Bake the cookies for 16-18 minutes then move to a bakers rack to cool.