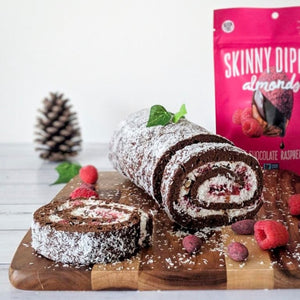 Ingredients for 8 servings:
For the cake:
4 eggs at room temperature
3/4 cup flour
1/3 cup cocoa powder
To garnish:
1 can of full fat coconut cream (chilled overnight)
2 tbsp powder sugar
1/2 cup unsweetened fine shredded coconut
1/3 cup crushed Dark Chocolate Raspberry SD Almonds
2 cups of fresh raspberries
Method for the cake:
1. Preheat the oven to 350 F° (180 C°) and line a large oven tray with parchment paper.
2. Separate egg withes and egg yolks.
3. In a large bowl, use an electric mixer to beat egg withes to soft peaks. Gradually add sugar and beat until stiff peaks form.
4. Add egg yolks and gently mix.
5. Incorporate sifted flour, baking powder and cocoa powder and mix gently with a silicone spatula.
6. Spread the batter as evenly as possible onto the lined tray and bake for 10 minutes. 
7. In the mean time, moisten a clean towel with water. 
8. Once baked, place immediately the towel on the cake and gently roll the dough onto itself. Let the rolled cake in the towel until it cools down completely.
Method to garnish:
1. Make sure the coconut cream has been chilled overnight. Remove it from the refrigerator without shaking it.
2. Open the can, the cream on top should be separated from the liquid at the bottom.
3. Place the hardened cream only into a mixing bowl and beat with an electric mixer until creamy.
4. Add powdered sugar and mix until smooth, then add half of shredded coconut.
5. Gently unfold the cake and evenly spread the coconut cream all over the cake.
6. Garnish with crushed Raspberry SD Almonds and fresh raspberries on top of the coconut cream and gently roll the the cake on itself.
7. Tightly wrap the bûche de Noël into plastic wrap and refrigerate overnight.
8. Unwrap the cake from the plastic wrap and decorate with the rest of the shredded coconut. Cut each end of the cake roll with a serrated knife. 
Decorate with Christmas decorations as leaves, etc. Serve and enjoy!
Place hardened cream in your chilled mixing bowl. Beat for 30 seconds with a mixer until creamy. Then add vanilla (optional) and powdered sugar and mix until creamy and smooth - about 1 minute. Taste and adjust sweetness as needed.