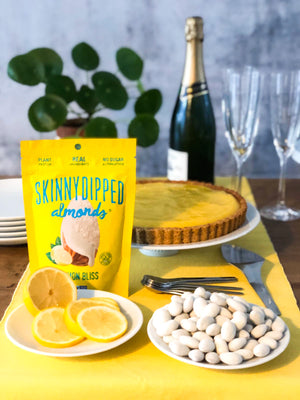 Bring some cheer to your table with this bright, better-for-you lemon tart complete with SkinnyDipped Lemon Bliss crust and served with bubbles for some added fun!
Ingredients for 9-inch tart shell:

For the Skinny Dipped Almonds lemon bliss crust: 

3/4 cup GF rolled oats 
2 cups Lemon Bliss SkinnyDipped 
2 tbsp honey
2 tbsp melted butter
A pinch of salt

For the lemon filling:
1 1/4 cup fresh lemon juice 

Finely grated zest of 2 lemons

3/4 cup honey

5 eggs

3 tbsp corn starch
Method:
1. Preheat the oven to 350°F.
2. Place all the crust ingredients in a food processor and pulse until well combined.
3. Press the mixture into an 9-inch tart shell with a removable bottom and bake for 15 minutes. When baked, use the bottom of a glass to press down the crust. Set aside.
4. Prepare the filling. In a small saucepan, bring lemon juice and zest to a boil.
5. In a medium bowl, whisk eggs with honey, then add corn starch and continue to whisk until blended. 
6. Pour the hot lemon juice over the eggs mixture whisking vigorously, then put everything back into the saucepan.
7. Whisk continuously over a low heat, until the mixture thickens. Remove from the heat.
8. Fill the tart shell with the lemon filling and let cool. Refrigerate before serving. Enjoy!