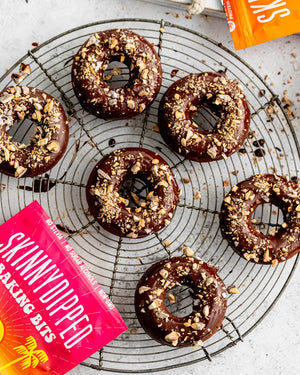 Makes 6 donuts
For the Donuts
3 large Eggs
1 tablespoon Nonfat Greek Yogurt
5 tablespoons Butter, softened
1/2 teaspoon Vanilla Extract
1/4 cup Unsweetened Cocoa Powder
1 cup Almond Flour
1 tablespoon Ground Flaxseed Meal
1/2 teaspoon Baking Soda
1/2 cup Granulated Sugar
For the Toppings
½ cup SkinnyDipped Salted Caramel Cashews, chopped
¾ cup SkinnyDipped Sea Salt Baking Bits
¼ tsp Coconut Oil
  Instructions     
Heat oven to 350°F and spray a donut pan with non-stick spray.

Beat the eggs, greek yogurt, and vanilla extract until smooth. Add the softened butter and beat until mostly combined, then add the cocoa powder; beat until smooth.

Whisk together the almond flour, ground flax, baking soda, and sweetener.

Add half of the dry mix to the wet and mix well with a silicone spatula. Add the remaining flour and continue to fold into the batter until it becomes thick and smooth. About 20 to 30 folds.

Fill a large plastic bag or piping bag with the batter and cut the tip about 2 inches up. Fill the wells of the pan with batter and smooth any rough ends.

Bake for 10-11 minutes, watching closely so they don't overbake! Let cool, then slide a knife around the edge to release the donuts.

Decorate: Melt the chocolate in the microwave at 20-second intervals, stirring frequently. Add the coconut oil and mix until smooth. Top donuts with chocolate and chopped SkinnyDipped Salted Caramel Cashews.