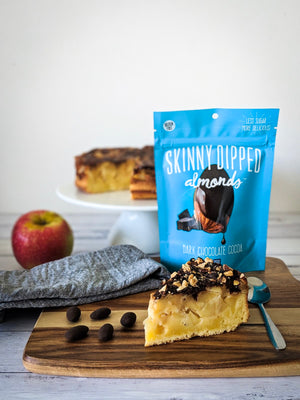 Apple cake with a Skinny Dipped Almonds crust. OMG.
Ingredients:
5 apples peeled and diced
1/2 cup crushed Dark Chocolate Skinny Dipped Almonds
3 eggs

1/2 cup sugar

1/3 cup butter 

1/3 cup heavy whipping cream
1 cup all purpose flour
Method:
Melt 1/4 cup of butter into a large saucepan. Add

 

the diced apples and cook over medium-high, stirring occasionally, about 5 minutes. Turn off the heat before the diced apples become soft and set aside.




Preheat the oven to 350°F (180°C).

Grease and line a 8 inch round pan with parchment paper.

Sprinkle the cake pan with half of the crushed Skinny Dipped Almonds and add the cooked diced apples over.

Place the eggs and sugar in a large bowl and with an electric mixer, whisk until light and fluffy. 

Add 1/3 cup of melted butter and the heavy whipping cream and mix until incorporated.

Add the flour and mix until just combined.  

Spoon the batter into the cake pan over the diced apples.

Bake for 25-30 minutes, or until a skewer inserted into the center comes out clean.

Let cool completely into the pan and turn out onto a plate.

Sprinkle the top with the remaining crushed Dark Chocolate Skinny Dipped Almonds and enjoy!